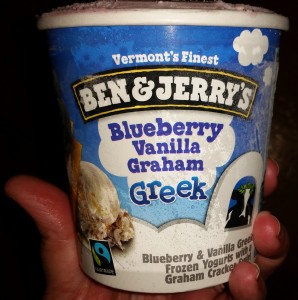 Ben and Jerry's Ice Cream Review-a-thon
Those of you who may not have heard on Twitter, I decided this week that I am going to try every Ben and Jerry's flavor. AND! I'm going to review each flavor here, on my blog.
You might be asking yourself, why on earth would anyone want to try every Ben and Jerry's flavor? Because it's an amazing goal? Yeah. That's why.
Full disclosure, I'm not really an ice cream fan. But I still feel this is a worthy endeavor.
So at least once a week, I will try one flavor and post my thoughts here on my blog.
This week, I tried: Blueberry Vanilla Graham Greek
I wasn't really looking forward to this flavor. So I felt this was a good place to start. Typically, I only like blueberries in muffins or pancakes. Even then, I can live without them. The graham though, that got my attention.
At first bite, the ice cream is slightly tart, and the flavor of the graham crackers comes through in every spoonful. The ice cream manages to have a great balance, and not be overly sweet. To my surprise, the blueberry and vanilla play off one another in the most wonderful way; the sweetness of the vanilla ice cream reels in the tart blueberry flavor.
My favorite part of this ice cream was the crunch from the graham crackers. I'm not sure what kind of magic Ben and Jerry use to keep the graham crackers crunchy, but sign me up to get one of the altars.
If you're a fan of blueberries, you'll like how much the flavor shines through. I'd also never guess there was Greek yogurt in this ice cream.
Overall: 8/10
Likelihood to eat it again: Likely