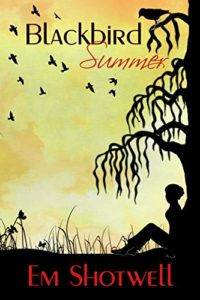 It's been a few months since I read Em Shotwell's Blackbird Summer — and this book has stuck with me. I've been trying to find time to write this review (so sorry it's taken so long). I heard about this book from my amazing critique partner, Elesha Teskey, but my TBR pile has been MILES deep for a while. I finally was able to carve out some time to read this book — and let me tell you — I am SO HAPPY I did.
Blackbird Summer is — well — Small town meets xmen. That's what hooked me about it. I LOVE books about small towns (that's actually what I'm writing right now, yay!)
So now to the nitty gritty. It's rare — really rare — that a book makes me emotional. I think the last time a book made me cry was when Sirius died. But this book got me. There are so many emotional twists and turns, but in the best possible way.
Blackbird Summer focuses on a family of outcasts in a small rural town in Mississippi. (Who doesn't love a good family of outcasts, right?)  I immediately got a sense of this family, and grew to love them. The way Em wrote this book, you feel like you're folded into this family, it becomes a part of you. I knew these characters, I could see my own family in them, and though it's a large family in the book — all of the characters were so distinct, I had no problem telling them apart.
The main character, Tallulah doesn't want to follow the path her family has laid out for her — namely, working at a produce stand and having more gifted babies from an arranged marriage. Tallulah meets an outsider, and the 'shipping gets real. A tragic loss shakes the family, and brings the tension between the family and the town to a head.
There's a great balance of romance and action that pulls you through the book. I didn't want to put it down (but you know, life). If you're looking for characters you're going to love 'shipping, this book is for you. I NEEDED these characters to be together like I needed air. There's a good balance of tension, romance, and suspense — the only thing I really wanted was a bit more heat.
When I finished this book, I was so sad that I had to leave these characters. I can't wait for a sequel — or literally anything else I can get my hands on that's in this world.
If you love small towns, romance, and mystery sprinkled with a little bit of magical realism then what are you waiting for? BUY THIS BOOK.