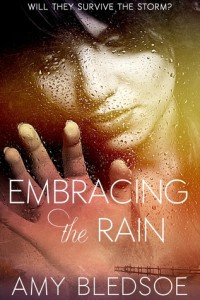 Let me start by saying, I absolutely loved this book. It took me on an emotional journey, and left me needing to recover. Embracing the Rain is a wonderful romance with a hint of suspense that holds you captive until the last page.
Author, Amy Bledsoe, had the rare ability to make me care about every-single-one of her characters, even the animals! The depth of the characters, their back stories, their quirks, and more importantly flaws — it all added up to very real characters that were well-rounded. Realistic ups-and-downs in the relationships kept me eager to find out what happened next. The romance, and romantic tension were not only believable, but palpable.
This book is based in a small town in Oklahoma, and centers around two characters who both have dark pasts, and secrets that they want to keep hidden. As the characters fell in love, I found myself rooting for them, and wanting to know how the rest of their lives unfolded. If you're looking for a great romance that's an easy read, with a bit of suspense, be sure to pick up Embracing the Rain by Amy Bledsoe.
Find Embracing the Rain on Goodreads.
Find Embracing the Rain on Amazon.
Summary
Reviewer
Review Date
Reviewed Item
Embracing the Rain by Amy Bledsoe
Author Rating