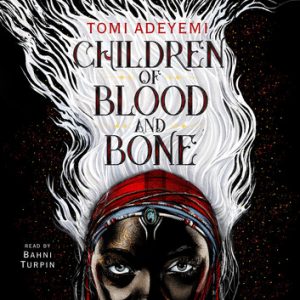 First of all, go buy this book right now. You don't even need this review, just do it.
BUT — if you really want the review, here's the deal y'all. Someone get me a bag of gushers because I'm about to gush about how AMAZING THIS BOOK IS.
I listened to Children of Blood and Bone on Audible, and I didn't want to stop listening to this story for even a second. The narrator, Bahni Turpin, did a fantastic job. There was so much to this story, magic, romance, friendship, war, loss, heartbreak. There were layers upon layers, and the author, Tomi Adeyemi, managed to weave it all perfectly so I never felt I lost a single thread during this book.
When I began listening, I was a little taken aback by all the Gods, the magic users, and how the system all fit together. I was afraid I wouldn't be able to keep track of them all or keep all the information straight in my mind, but that didn't end up being a problem at all. The magical elements and the worldbuilding were perfect to keep you grounded in the story, but did not dump too much information on the reader at any time.
The friendships and relationships in this book are beautiful, heart-warming, and at times, heart-breaking. The characters in this book were so engaging, so real, so well defined. And I loved how the arcs of each character were interwoven.
Want to read this book? You can find it here on goodreads!