Review – My Highland Spy by Victoria Roberts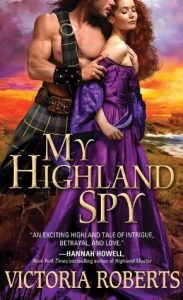 I LOVED this book. I picked it up just because I couldn't resist the title of Kill or be Kilt. And I'm SO glad I stumbled upon this series. There was an excellent balance of outside action + romance. The romance was incredibly believable and flowed very naturally throughout the whole book. I liked the way the history was woven into the plot.
Throughout the book there were twists I didn't expect, moments I was screaming to myself LOVE HIM ALREADY, and I genuinely cared about what happened to Ravenna, Ruairi, and the rest of the Sutherland clan. And I absolutely loved how fiery Ravenna and Grace both were.
I listened to this book on Audible, via the awesome Romance package, and I have to say I loved the narration of this book as well as the story.
I can't wait to read the rest of the series!
You can buy this book on Amazon here — or Listen to it on Audible like I did here (my link will give you two free credits if you're new to Audible!).
note: This post contains affiliate links