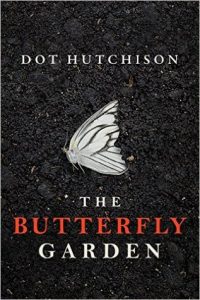 The Butterfly Garden by Dot Hutchinson
Near an isolated mansion lies a beautiful garden.
In this garden grow luscious flowers, shady trees…and a collection of precious "butterflies"—young women who have been kidnapped and intricately tattooed to resemble their namesakes. Overseeing it all is the Gardener, a brutal, twisted man obsessed with capturing and preserving his lovely specimens.
When the garden is discovered, a survivor is brought in for questioning. FBI agents Victor Hanoverian and Brandon Eddison are tasked with piecing together one of the most stomach-churning cases of their careers. But the girl, known only as Maya, proves to be a puzzle herself.
As her story twists and turns, slowly shedding light on life in the Butterfly Garden, Maya reveals old grudges, new saviors, and horrific tales of a man who'd go to any length to hold beauty captive. But the more she shares, the more the agents have to wonder what she's still hiding…
This week I listened to the audiobook of THE BUTTERFLY GARDEN by Dot Hutchinson. I will say up front, this book contains many triggers – and is likely not for everyone because of that. But as someone who is interested in true crime, crime thrillers, and books about serial killers – I found this book fascinating and disturbing.
We get a look inside The Butterfly Garden, a garden crafted by a serial killer called The Gardener to house his butterflies. The Gardener kidnaps beautiful women, tattoos them with butterfly wings, and hold them hostage in his garden. In his own twisted way, he thinks that he's taking care of these women and saving them. There are so many horrors waiting in the garden, I found myself incredibly nervous for the characters at every turn.
The characters themselves are beautifully written – there are so many – but I didn't find the number of characters to be overwhelming or burdensome while listening, every one was so distinct that I could easily tell them apart. I loved the main character, Maya, who is all hard edges. I connected with her right away, she's complicated, unreliable, and multifaceted.
Inside the garden you uncover the horrors that have been occurring for over 30 years – I can't say more without giving away any more of the book. This book is beautifully written and a hell of a ride.
The narrators for the audiobook Lauren Ezzo and Mel Foster did an incredible job. I can't wait to listen to the next book.
You can find out more about this book here – or you can listen to it for FREE on audible by using my link!
Note: This page contains affiliate links.