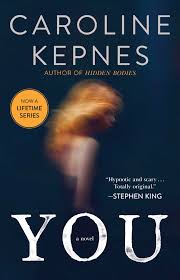 One of my most haunting, creepy, and thrilling reads of 2018.
So, I'm late to the YOU game. I found out about the book because of the show on Lifetime. After watching a few episodes of the show I was DYING to find out what was going to happen next. Enter: the audiobook.
Let's start with the narrator of the book. Hot damn I would listen to Santino Fontana narrate the instructions on a poptart box. He did an amazing job and was perfect for the book.
For the plot: No man could ever love Guinevere Beck the way Joe could. Ever. He studies her like his favorite books, he watches her to learn what she likes, he wants to fold into her life like the boyfriend she never knew she needed. It's so intense, so perfect, so wonderful– it became an everythingship.
But he's planned it all. Plotted it from the beginning. And nothing will stand in the way once he decides to love someone.
So what happens when love turns to obsession–and then something darker? Girl, you're about to find out.
This book is beyond creepy. It's gripping, it's hypnotic, and holy shit-I did not want to stop listening to it. I was hooked from chapter one. I absolutely loved the writing, the way the story unfolded, and every thing about how Joe was written.
Synopsis from Amazon:
How far would you go for the perfect love? A young man's dark obsession with an enigmatic, gorgeous writer leads to murderous consequences in this erotic psychological thriller.
You walk into the bookstore and you keep your hand on the door to make sure it doesn't slam. You smile, embarrassed to be a nice girl, and your nails are bare and your V-neck sweater is beige and it's impossible to know if you're wearing a bra but I don't think that you are. You're so clean that you're dirty and you murmur your first word to me – hello.
When aspiring writer and recent Brown graduate Guinevere Beck strides into the bookstore where Joe works, he's instantly smitten. Beck is everything Joe has ever wanted: she's gorgeous, tough, razor-smart, and sexy beyond his wildest dreams. Joe needs to have her, and he'll stop at nothing to do so. As he begins to insinuate himself into her life – her friendships, her email, her phone – she can't resist her feelings for a guy who seems custom-made for her. So when her boyfriend, Benji, mysteriously disappears, Beck and Joe fall into a tumultuous affair. But there's more to Beck than her oh-so-perfect façade, and their mutual obsession quickly spirals into a whirlwind of deadly consequences.
Dark, masterful, and timely, debut novelist Caroline Kepnes' You is a perversely romantic thriller that's more dangerously clever than any you've heard before. A chilling account of unrelenting passion, this tale of love, sex, and death will stay with you long after the story ends.