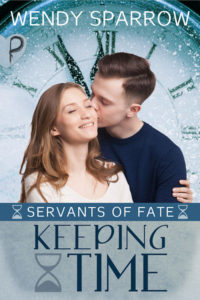 I'm so excited to reveal the cover for Keeping Time!
Keeping Time, cover copy
When Ruin's mortal sacrifice to the Fates on New Year's Eve is already dying, it should be the easiest life he has to take, but not this year. The dying man knows Ruin is there to kill him, but he asks Father Time's son to look after his twin sister. Ruin can't stay away from the sweet and sensual Phoebe. His previous interactions with women changed the definition of his name, Ruin, so he can't fall for her, especially when the lovely mortal doesn't know he killed her brother.
Phoebe's brother promised to send her a guardian angel, but Ruin seems too devilish to be holy. He only wants to be friends and keep watch over her, but she can't resist him. Loving Ruin is a sin tempting her heart. How wrong is it to cause an angel's fall? Ruin and Phoebe's time is running out as another New Year's Eve sacrifice approaches, and Ruin might lose everything for keeping his true hand in fate secret.
Check out the official page here.