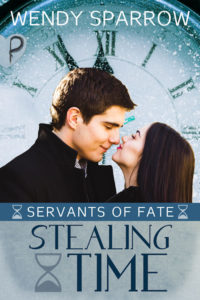 I'm so excited to be a part of the cover reveal for Stealing Time!
Stealing Time Cover Reveal!
Father Time's son, Zeit Geist, must sacrifice a mortal's lifetime to the Fates each New Year's Eve. Last year—inexplicably, really—he made an 11:59 substitution. The Fates are pissed and they're after his mortal Hannah. With the year ending, he ought to figure out why he'd saved her—and why he keeps doing it.
Following an unlucky year, Hannah Lyons needs a week's holiday in a lodge to unwind. What she gets is near-death experiences and a sexy immortal who can't avoid kissing her, but might have to kill her. After all, even Zeit can't hold back time indefinitely.
Check out the official page here.