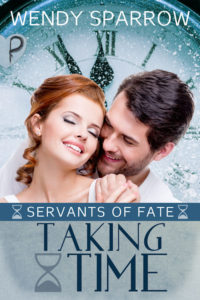 I'm so excited to be a part of the cover reveal for Taking Time!
Taking Time, cover copy
Tempus fugit. Time flies…unless you're Tempus Halt, Father Time's son. Day in and day out are the same, except for New Year's Eve when he steals the life of a mortal on behalf of the Fates. This year marks his first failure to stay the monotonous course. A mortal's kiss and her insistence on taking the place of his year's sacrifice stalled out everything. Now, Tempus has to keep her alive for a year so his sacrifice isn't wasted, but that's the only reason—definitely.
One of these crazy grim reapers stole Lacey Carpenter's estranged father's life two years ago. She'll give her own life rather than letting it happen again. It backfires when Tempus doesn't actually kill her, and they have to spend the year together. She's falling for an immortal who stops time, not just to save her life, but also to ruin her dates and steal her books. This can never work and fate is just not on her side—in fact, they'd really like her dead before Tempus falls for her in return.
Check out the official page here.