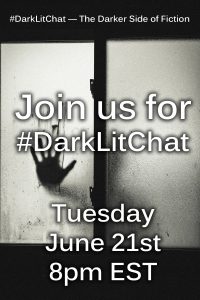 #DarkLitChat Blog Tour
Today is launch day for the #DarkLitChat blog tour! I'm so excited about the warm reception so far, it seems many of you are really looking forward to this chat, and I can't wait to see you all there. As the blog tour rolls on until our first chat, June 21st, at 8pm EST, I will be posting the blogs here each day.
Thank you to all of you that are helping spread the word! We appreciate your help!
As a reminder, we are looking for published authors who are interested in doing Q&As for future chats, or interviews on my blog. If you're interested, please reach out to me here!
After the chat, we'll be posting about a Google Group for Dark Lit authors to find other authors for CP, beta matches, and for having work critiqued — so keep an eye out after the chat is over!
Stop 1 on the #DarkLitChat Blog Tour
Stop 2 on the #DarkLitChat Blog Tour
Stop 3 on the #DarkLitChat Blog Tour
Stop 4 on the #DarkLitChat Blog Tour
Stop 5 on the #DarkLitChat Blog Tour
Stop 6 on the #DarkLitChat Blog Tour
Stop 7 on the #DarkLitChat Blog Tour
Stop 8 on the #DarkLitChat Blog Tour
Stop 9 on the #DarkLitChat Blog Tour
Stop 10 on the #DarkLitChat Blog Tour
Stop 11 on the #DarkLitChat Blog Tour
Stop 12 on the #DarkLitChat Blog Tour