So, today I tweeted a thread about some common issues I see with advice for email marketing that's directed at authors (this can also be applied to any creator or small business), and based on some of the responses to the thread, I want to go into more detail here.
I want to start off by saying, I'm not offering any of this advice because I want to sell you something. I no longer offer my marketing skills on a freelance basis, keep that in mind. I don't want your money. I genuinely think that better emails make for a better marketing world. And I want to see you all succeed. I'm also sick to death of bad emails.
Now, who am I to give you email advice? I've been doing internet marketing for sixteen years. I've worked for/with fortune 100 companies. I've managed email lists IN THE MILLIONS. This is what I do every day. That being said, your mileage may vary. Everyone is different, every email list is different.
Before you start
Before you embark on email marketing, you need to invest some time into research. Sign up for mailing lists that other authors have, sign up for email lists of large publishers, SIGN UP FOR ALL THE EMAILS.
These emails will give you a good idea of what else is out there, what may or may not be working for other people, and it might spark some ideas for your own content. Many authors also look to cross-promote within their mailing lists, this could open up some opportunities you didn't know were possible.
Email laws
After you've done your research, guess what: It's time for MORE RESEARCH. But this time, legal research. Why? I mean, unless you want to go to jail and pay a whole bunch of money… I'd guess you'd want to follow the laws. If you're not familiar with the email marketing world, you're likely asking yourself – LAWS? THERE ARE EMAIL LAWS? Yup. Can-SPAM (US), CASL (Canada), GDPR (Europe), and I'm sure there are others, but these are the main ones to focus on. *fine print* I am not a lawyer, I am not offering legal advice. Do your own research to make sure that you are complying with the laws of your country and the countries you are sending emails in.
I'm going to focus mainly on two big points for Can-SPAM.
You MUST include a physical address in the footer of your email to comply with Can-SPAM laws. Yes, this can be a PO Box.
DO NOT HARVEST, BORROW, RENT, OR PURCHASE EMAIL ADDRESSES. Do not take email addresses from websites and add them to lists. If people want to sign up for you emails, they will. Using someone else's email list IS NOT LEGAL. Do not do this. DO NOT let someone else mail to your list either. Do not sell your list. Do not rent your list.
Mailing platforms
Now, email platforms. There are many free email platforms now that will allow you to build your lists and send emails up to a certain point (usually 2000 leads or 2000 emails per month). My recommendation is Mailchimp, it's easy to use, and they have plugins that work with Facebook and WordPress for easy list creation/management.
Please DO NOT send your emails out of Gmail or outlook. Use a real mailing service. Not only are there legal reasons for this, but mailing platforms will allow you to track opens/clicks so you know what's working and not working. Most of these mailing platforms will also allow you to do split tests, so you can test different subject lines and content to see if one is more effective.
Building your list
So, how do you build a list? Place a form on your website (you can get these forms from most mailing services, they'll generate one for you). You can also place the form on your Facebook page. Trust me, if people want to sign up for your list, they will.
Please do not use services that promise to build your email list, send users to your website, etc. These are all scams.
As I also mentioned on twitter, do not bother with trying to build your email list out of giveaways. Typically, these users will sign up for the duration of the contest and unsubscribe as soon a they realize they have not won. (This might work for some people, but in my experience, this does not lead to sales.)  Your goal for your email list is quality leads over quantity. Having 100 engaged users pays off better than 2000 users who never open a single email.
Don't pressure yourself to hit certain benchmarks for your email list. Again, you're going for quality over quantity. Your list will build naturally as you grow your audience.
Also, keep in mind, if you're going the traditional publishing route, your publisher will have their own lists to utilize. The entirety of email marketing won't just lie on your shoulders, you'll have them to send for you as well.
I've had several authors inform me that offering free content (such as novellas or short stories) that go along with their novels has helped a lot in building their lists. This kind of content makes it much more likely that those signing up for your list will be engaged in your writing and the worlds you're building.
Your emails
If you don't have experience with HTML & CSS, choose a mailing platform that has built in responsive templates. You want responsive, because these templates will make your email look correct regardless of the device your user is using to open the email (It'll format automatically for mobile, tablet, or desktop).
When creating your emails, be clear about what the purpose is. Are you trying to sell a book? Make a clear call to action with a button that tells the user what to do. [CLICK HERE TO BUY]. Are you trying to give them an update on something with your book? Make it front and center. You want to keep your emails short, sweet, and to the point. If you want longer content, put that on your blog and have people click through for more. Don't put it all in the email. Over half of all emails are now opened on mobile devices, users don't want to read 5000 words of content on their phone.
Once you're comfortable with emailing your list, I would recommend coming up with a content calendar. Consider seasonal things that might make sense to mention (Are your books on sale for Black Friday? Will you be attending specific conferences?). I find that this makes it easier to hold yourself accountable to your marketing goals, and then you've already got an idea of what you should write.
How often to email
My personal recommendation, as an author, no one wants to hear from you more than once a month (except for your mother, and you can just call her). If you have something important to say, something that's urgent – you need people to vote for an award, then by all means, email them again. But don't email just because you feel like you need to or because you're supposed to. I have seen MANY authors that email EVERY DAY, and this is such overkill. No one needs an email from you every day.
About me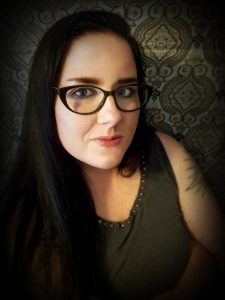 Dea Poirier was raised in Edmond, Oklahoma, where she got her start writing in creative writing courses.  She attended The University of Central Oklahoma for Computer Science and Political Science. Later, she spent time living on both coasts, and traveling the United States, before finally putting down roots in Central Florida. She now resides somewhere between Disney and the swamp, with her husband, son, two dogs and two cats.
She spends her days at her day job as a Senior Manager of Email and Lifecycle Marketing, and her nights writing Manuscripts.