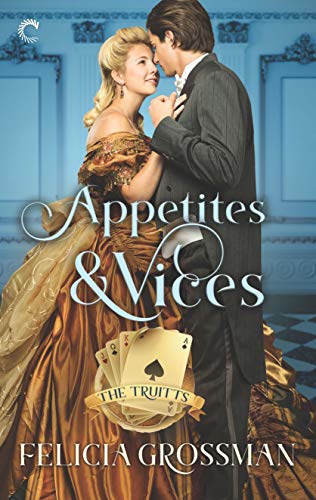 Please describe what the book is about.
Appetites & Vices tells the story of Ursula Nunes, the least popular Jewish heiress in 1840's Delaware, and Jay Truitt, a recovering opium addict hiding behind his rich playboy persona. What starts as a faux engagement to help Ursula's social standing, turns into actual love. The novel follows Jay's struggle build a new life and Ursula's struggles to fit into both Jewish and gentile society, while discovering that everything is a little easier with a partner. The book explores of the difficulties of American Jewish identity, addiction and interfaith romance.

Share a teaser from your book.
If she'd been fortunate, she'd have been born docile-but-plain or at least a sedate pretty. Society rewarded conformity. The woman was doomed. Ursula Nunes was a four-time deviant. Her Jewishness, her wealth, her near-aggressive beauty, and her charm—or lack thereof— made her almost hopeless.

Where did you get the idea?
Appetites is a faux engagement story and I love that trope (romance is all about the tropes). And I really, really, really wanted to write a heroine in a historical romance that could've been my ancestor (there's no British nobility in my blood, I promise), who got to have a really big character arc because why should the heroes have all the fun screwing things up?

What's the story behind the title?
Appetites & Vices comes from my CP (critic partner) group. My original title was terrible and they would not let me query with it so, led by my writing bestie, MJ Marshall, we brainstormed and everyone else along the way loved it.

No spoiler, but tell us something we won't find out just by reading the book jacket.
Both Appetites and its sequel,Dalliances & Devotion, are parents-and-children books in a lot of ways. The romantic relationship is primary but the biggest secondary relationships are those sort of family bonds.

Tell us about your favourite character.
Let's be real, I usually put a little bit of myself in all my characters, especially my heroines, but there's a TON of younger me in Urs. A lot of embarrassing things that I look back and cringe on, and a lot of the good stuff as well. Urs is spoiled, indignant, high-tempered, impetuous, pushy, bossy, and socially-awkward, but she's smart, loyal, brave, determined, and ultimately very kind. She values fairness and justice and may say the wrong thing, but would never "punch" (or throw) down.

If you could spend a day with one of your characters, who would it be and what would you do?
I love me some Urs. She always knows where the good desserts are and she has a monkey!

What kind of research did you do for this book?
It's historical so a ton of research. It's set in my area of the country (Delaware and Philadelphia)—where I grew-up—just a few centuries earlier—so I kind of knew where to go, i.e., Rebecca Gratz's letters and writings as well as Winterthur Museum and Gardens etc.

What did you remove from this book during the editing process?
Oh gosh, before querying, I removed original chapters three and four as well as the first half of chapter one, because they were cute but didn't push the plot forward. I also added a bit of backstory to my hero after an R&R. But other than that initial stuff, I didn't remove anything else big.
A
WHAT'S NEXT
What are you working on right now?
Appetites & Vices has a sequel, called Dalliances & Devotion coming out in August, so there are edits there. I'm also drafting something entirely new, but still American now, and there's a Regency I'm editing.