I'm so excited to be part of the Omega Rising Blog Tour for Anna Kyle! She was kind enough to write an amazing guest post for my blog. Check it out, and then go buy her book!
I Call Shenanigans
I've published two books (my second paranormal romance, Omega Rising, was released yesterday so OMG YAY) yet I still read a ton of articles and blog posts about writing and publishing because I want every book I write to be better than the last. Here are some notions about authors I see regularly that I call bullsh, er, Shenanigans on:
1 It gets easier. Um, no. Writing a book is freaking hard – every time. At least for me. I think you get more proficient as a writer but creating a good novel, coming up with compelling characters and plots and subplots and twists that surprise a reader is not easy. Maybe after book five or six or seven it gets easier. I don't know. When I write my seventh book (fingers crossed) I can let you know. The hard work is definitely worth it, though.
2 You need to write every day to be an author. Okay, that one is good advice but I can't and don't follow it. It's and unrealistic goal and puts undue pressure on aspiring authors, especially when they're starting out. Most writers deal with jobs, families, responsibilities, illnesses, errands, cooking (jk I barely cook). I write a lot, don't get me wrong, but not every day.
3 Writers must write. This one bugs me. What happens if we stop for a day, a week, a month, a year? Do we explode from all that unreleased idea-energy? Do we lose our imagination? C'mon. Writers are simply creative humans who truly enjoy writing; it's incredibly thrilling and rewarding to see stories from our head transformed into words on a page.
4 Once your manuscript is published, you're done so write your next book. Yes and no. Yes you should be in the midst of your next book and no you're not done with this one. Because now you must get the word out that your book exists in a sea of millions of other books. That is not easy. I'm lucky that I have an amazing publisher (shout out to the World Weaver Press team) and an equally amazing editor (*blows kisses to Cori Vidae*) behind me doing some heavy lifting but as an author you also shoulder a responsibility to make your book a success. If you are self-publishing, all that work is on you so be ready. Have a plan.
5 No Shenanigans: For what it's worth, here are some things I think are super important to getting published. Read a lot, in and out of the genre you write. Write a lot. Keep learning about the craft of writing. Find support because writing is lonely. Be open to good criticism. Ignore the assholes. Lastly, finish writing a book. Doesn't have to be great or even good. It just has to be finished. It's incredibly empowering. Then the real work begins ☺️
BIO:
Anna Kyle wrote her first story at age 12 on an old manual typewriter, and though the technology has changed, she hasn't stopped since. She lives in the Midwest surrounded by family and friends and dogs and horses. They've forgiven her (mostly) when they appear in her stories. She reads everything she can get her hands on, but romances, especially paranormals, are her favorite. Vampires, humans, Fae, shapeshifters, or demons, it doesn't matter—Anna's heart goes pitter-pat for the Happily Ever After. Hot heroes + strong, funny heroines = awesome.
Omega Rising is available in trade paperback and ebook via Amazon.com, Barnesandnoble.com, Books-a- Million, Kobo, World Weaver Press, iBookstore, IndieBound and OmniLit, and for wholesale through Ingram.
Website: annakyle.com
Amazon: http://amzn.to/1sn7yPX
Goodreads: http://bit.ly/22uf4oA
Twitter: Anna Kyle @SandsOfTime5050
Buy Links:
World Weaver Press: http://www.worldweaverpress.com/store/p102/Omega_Rising.html
Amazon: http://amzn.to/1MQCz7L
All Romance eBooks: https://www.allromanceebooks.com/product-omegarising-2014457-153.html
Kobo: https://store.kobobooks.com/en-us/ebook/omega-rising-2
Barnes and Noble: http://www.barnesandnoble.com/w/books/1123639558?ean=2940153211206
Goodreads Page: https://www.goodreads.com/book/show/25184053-omega-rising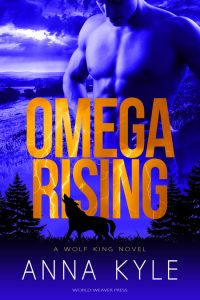 Cover Copy:
Cass Nolan has been forced to avoid the burn of human touch for her whole life, drawing comfort instead from her dreams of a silver wolf—her protector, her friend. When her stalking nightmares return, her imaginary dead sister's ghost tells her to run, Cass knows she should listen, but the sinfully hot stranger she just hired to work on her ranch has her mind buzzing with possibilities. Not only does her skin accept Nathan's touch, it demands it. Cass must make a decision—run again and hope she saves the people who have become her family, or stand and fight. Question is, will it be with Nathan or against him?
Nathan Rivers' life is consumed by his quest to find the Omega wolf responsible for killing his brother, but when the trail leads him to Cass and her merry band of shapeshifters, his wolf wants only to claim her for himself. When evidence begins piling up that Cass is the Omega he's been seeking, things become complicated—especially since someone else wants her dead. Saving her life might mean sacrificing his own, but it may be worth it to save the woman he can't keep from reaching for.