Three Things I Learned While Writing "Hunted and Haunted" for Rough Edges
You Can't Deny Your Muse. I saw the submission call for Rough Edges here and there on Twitter, and my initial reaction was "Huh, cool." Cowboys have never really been my thing—I tend to go for regular contemporary romance, maybe some paranormal here and there. So I went back to editing my novel and didn't think much about it. But when I wasn't looking, my brain started wondering "what if…?" If I were to write a cowboy story (WHICH I'M NOT), what kind of cowboy story would it be? I thought about a recent trip out West, all that wide open space. I like ghost stories, what if I wrote something with a ghost in it? (No, brain, we're not writing a story right now.) A week before the submission deadline, the story that had been simmering in the back of my mind suddenly bubbled over, fully formed, demanding my attention.  No, I told it. I don't have time for you. Turns out, though, that when you have an idea take hold like that, you can't tell it no. Which leads me to…
There's No Minute Like the Last Minute! Did I mention that it was a week before the submission deadline, and I hadn't written a word? I'm a notoriously slow writer, so I spent a precious few days trying to talk myself out of it. I don't have time, I don't write fast enough, etc. But as I said above, you can't deny the muse. So I took a deep breath and dove in. I wrote before work. I wrote through my lunch break. I slipped a legal pad under the work on my desk, scribbling down dialogue and other phrases. I wrote at home after dinner and before bed. And a little more than 36 hours later, I had a story. I let it sit overnight, emailed it to my CP to make sure it wasn't terrible (I was so bleary-eyed from writing so fast that I couldn't tell!), made a few small tweaks, and that was that!
Breaks Are Important. The last writing session for "Hunted and Haunted" during those 36 hours started around 7 p.m. on a Friday night at a downtown coffeehouse. A couple hours, a couple lattes, and an apple crumble a la mode later, I went home, made some more coffee, and kept on writing. I finished around 2 a.m. and collapsed in bed. And that's when I realized that I couldn't feel my legs. They felt kind of weird and tingly. I spent a few panicked seconds wondering if I should go to the emergency room before doing the math and realizing that I hadn't moved from my chair in roughly 5 hours.
Don't do that, y'all. Get up and walk around every so often while you're writing. Don't be like Jen.
A key witness in her ex's corruption trial, Anna needs to lay low for her own safety. While she's stashed in a remote hunting cabin in Montana, her nightly erotic dreams make her wish that sheriff's deputy Gabe McKenna's protective custody was a little more hands-on. Then she learns about the ghost who shares the cabin with them and discovers it'll take both men to keep her safe… and satisfied.
Website: www.jendeluca.com
Twitter: @jaydee_ell
Goodreads: https://www.goodreads.com/author/show/15033696.Jen_DeLuca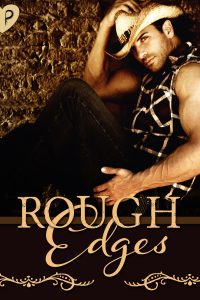 Get your copy of Rough Edges at:
Official page: http://www.penandkinkpub.com/home/books/anthologies/rough-edges/
Goodreads: https://www.goodreads.com/book/show/29221173-rough-edges
All Romance eBooks: https://www.allromanceebooks.com/product-roughedges-2002518-362.html
Amazon: http://amzn.to/1pXpaAG
Kobo: https://store.kobobooks.com/en-us/ebook/rough-edges-8
Smashwords:  https://www.smashwords.com/books/view/620193