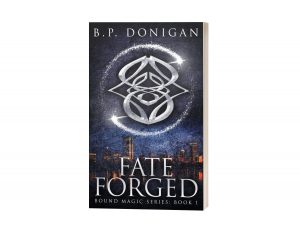 I'm so excited to feature FATE FORGED by B.P. Donigan on my blog today!
__________________
Story BLURB
Growing up on the streets of Boston, Maeve O'Neill learned to rely only on herself. Paying bills isn't glamorous, but her life is on a better track—until she starts having agonizing visions of torture. Desperate to rid herself of the paralyzing episodes, she follows her visions to the scene of a murder. Instead of answers, she gets an unexpected gift from the victim: Magic.
With the unwanted power, Maeve becomes the access point to all of Earth's untapped magic. Now, powerful enemies are after her and staying alive means striking a bargain with an untrustworthy ally with a long-shot plan. Maeve has to keep the magic in check until she can get rid of it, but her control is slipping and everything could go wrong. If the plan fails, her unlikely ally betrays her, or her enemies catch her, she'll be handing over all of Earth's magic…and her life.
Please describe what the book is about.
Fate Forged is about a woman who accidentally ends up as the key to all of Earth's untapped magic. She's targeted powerful enemies in the middle of a magic civil war. They'll kill her to get the uncontrollable powers she inherited, so she's forced to strike a deal with an untrustworthy ally who has a long-shot plan to get rid of her magic.
If you were speaking to someone who hasn't read your writing before, why should they want to read Fate Forged?
Great question! The book can best be described as Epic Urban Fantasy. Fate Forged is a fast-paced thriller wrapped in magic. If you enjoy strong female protagonists who aren't invincible, and a healthy splash of realistic romance, then you'd probably like Fate Forged.
Did anything from your real life influence your book at all?
Definitely! I grew up in Alaska, which is where my characters go to search for a Fate who can remove the uncontrollable magic powers from my main character. They hike over a glacier and to the top of a mountain in a re-creation of a three-day hike I did when I was a teenager. (I wasn't chased by demon dogs at the time, but otherwise it's the same hike.) The locations, and even the hiker's huts where they stop over, are all real places. Also, the book starts out in Boston where I lived for a decade after college, and I mention Davis Square and a fortune cookie factory, which are real places that are near and dear to my heart. I had a lot of fun putting my favorite places into my story.
What sparked the idea for Fate Forged?
Fate Forged, started with a 'what if' questions. What if a woman inherited crazy magic powers, but had no idea how to control them?  From there, I let the questions lead me into a story – Who is she? Why doesn't she know how to control the magic powers? Where do the powers come from? What if she doesn't remember something critical about herself…
WRITING PROCESS
How long did it take for you to write Fate Forged? I first sat down to write a novel four years before Fate Forged was published. The first year was all about learning how to write a novel. I've always been an avid reader, and I knew what I liked, but I had no idea how to plan, plot or pace a novel. An entire second year was spent editing my work in progress and then getting beta readers and critique partners.
Did you have to do any research for Fate Forged?
I researched everything! For the story itself, I had to map out the character's road trip, and Google search weapons, how to realistically kill someone in hand-to-hand combat, and watch lots of videos online just to make a coherent fight scene. For a while there, I was pretty sure my internet searches were going to flag an FBI raid on my house.
Did anything change significantly in your book during the writing or editing process?
A: Yes! Many of the character's names changed, and the title of Fate Forged used to be The Lost Sect, which I liked, but the publisher didn't think had enough depth. After some soul searching, I decided "Fate" was a thread that will reach across the entire series, and then I attempted to find a title with the word Fate that didn't sound like a romance novel! To make it all cohesive, I ended up coming up with titles for the first three books (as well as the Series Title) so the extra effort was worth it.
Are you a plotter or a pantser?
Plotter all the way. I'm always looking for better ways to plan out the plot, the characters and pacing. For me, it's so much easier to write creatively if I know the bones of the story are solid.
Author Bio
B.P. Donigan was born and raised in Wasilla, Alaska (which would later become famous thanks to one infamous politician who could see Russian from her house, but at the time was about as rural as you can get).
She attended college in rural Idaho earning a degree in Print Journalism, and then not-so-rural Utah earning a degree in Marketing, and finally moved to very-not-rural Boston where she lived and worked for ten years. After paying her dues to the Extreme Winters, she resides now in sunny California, with her two kids, two fish, two dogs… and one amazing husband. Like any good superhero she spends her daytime building her cover story behind a desk, and her nights saving the world (on paper, at least).
Release Date: 12.18.18
-Buy on: Amazon | Kobo | Red Adept Publishing | B&N | GooglePlay