I'm so excited to be hosting a giveaway for Stone of Power: Keepers of Earth Book 1 by Kimberly A. Riley! Not only do you get this awesome book for FREE — It's also SIGNED!! (Sorry guys, the shipping for this is U.S. Only!)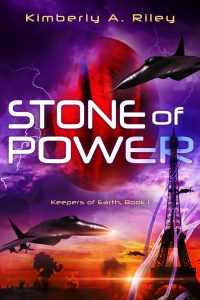 When Earth faces a serious threat from collapsing alternate dimensions, it handpicks individuals, called Keepers, to locate and obtain special Stones that have the power to restore balance to the universe.
Andrew is trying to impress his new girlfriend Christine at the carnival when he meets the Keepers. Drawn to them by an unidentifiable familiarity, Andrew follows them. Thrust into a world of harrowing adventure, he journeys through various dimensions and encounters Venom, a man who holds the one thing the Keepers desperately need to save Earth—the Stone of Power.
But Venom has other ideas about what Earth needs and threatens the Keepers' plans at every phase of their mission. In these new realms of danger and even horror, Andrew must find his own power in order to make the sacrifices necessary to save Earth. As Andrew begins to fight back, he realizes he and Venom have a lot more in common than he thought.
Reviews:
"Stone of Power presents an incredibly interesting world. I'm a sucker for an interesting sci-fi or fantasy setting. This book combines a mostly sci-fi tech world with a little fantasy magic. The way this world is revealed is very well thought out. It's revealed as Andrew and Christine encounter it. Each time you get a little piece of the world, it's enough to understand the immediate scene, but not so much that you tune out due to a wall of exposition (I'm looking at you later books in the Dune series). Each time something about the world was divulged it made me want to know more about how things worked, not because it didn't explain enough, but because what was shown was intriguing.
I appreciate how scientifically accurate or at least plausible the science and tech are presented. Explanations for how things work make sense. They're concise, fit with the story and pacing, and factual. You can tell the author was a science teacher, and judging by this book, was a darn good one.
This is ostensibly a young adult novel, but it does not get caught up in teen angst nor does it suffer from bland stereotypical and/or "braindead" characters. The characters are interesting and well-written. Those we see more of have complex and believable motivations. What's revealed about the other characters makes me look forward to learning more about them in future books. Those few times when characters say or do the "braindead" or non-ideal thing, it makes sense given what the characters are going through. It's much more complex than just, "Me teen, me have hormones."
I thoroughly enjoyed this book. Interesting world, interesting characters, interesting motivations for the villian, and had me suffering from the "just one more chapter" syndrome." – T. Gilbert
"An absolute blast to read that really hooks more as it goes, and the first book in a long time that cost me sleep because I went "I'll stop at the next chapter.. or the next." – Daniel J. Hodge
"It's an excellent story for any kid who loves comic books and science!" – EricaPossible
Bio: 
Kimberly Riley grew up in a small town in Southeast Texas and now lives in the outskirts of Austin with her husband, dog, birds, and numerous fish. Originally a high school science teacher, she has taken a break from teaching to become a full time author. Her love of science fiction and fantasy influences her writing and her artwork. She spends her free time painting (mostly dragons), playing D&D, and teaching her birds to whistle the Imperial March.
Amazon: https://www.amazon.com/dp/B01NCS2TXA
Website: https://kimberlyariley.com/
Newsletter: https://madmimi.com/signups/200313/join
Twitter: @KARiley40
Fine print: To be eligible to win, at the time of the drawing you must follow Dea Poirier and Kimberly Riley on Twitter. If you do not follow, you will not be eligible to win. Bot and Spam accounts will not be eligible to win. U.S. Only.