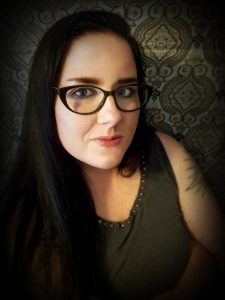 Author Dea (D.H) Poirier is the author of NEXT GIRL TO DIE, which hit #1 in the Amazon charts and the bestselling thriller FIND ME IN THE DARK. She was raised in Edmond, Oklahoma, where she got her start writing in creative writing courses. She attended The University of Central Oklahoma for Computer Science. Later, she spent time living on both coasts, and traveling the United States, before finally putting down roots in Central Florida. She now resides somewhere between Disney and the swamp.
Dea Poirier is represented by Chris Bucci at Aevitas Creative Management.
Frequently Asked Questions
How do you pronounce your name?
First name: Dea – Pronounced as DEE.   Last name: Poirier – POUR-E-ER
When did you start writing?
I'm not entirely sure. I always wrote songs/poetry/stories when I was a kid. The first real story I remember putting a lot of effort into was a short story for a creative writing class in high school. I wrote about a man who was accidentally turned into a potted plant by a couple witches.
Where do you get inspiration?
Normally from history, and places. Many of my stories are inspired by history, mythology, or places that I've stumbled on in my travels around the country.
What is your favorite book?
Diary by Chuck Palahniuk. The Queen's Fool by Philippa Gregory is a close second.
What's it like having Aphantasia?
If you've never heard of Aphantasia, it's the lack of creating mental imagery. There's a scale, some people with Aphantasia can picture things roughly in their mind–I however cannot picture anything in my mind at all. My memories aren't images, I can't picture the faces of people I know, I don't imagine scenes or characters from my books (I keep an excel sheet of physical features if I decide to add them at all, because I have no idea what they look like), most of my dreams don't even have imagery. You can read more about it here! 
Connect with me:
Amazon
Facebook
Goodreads
Instagram 
P.O. Box: 
Dea Poirier
P.O. Box 888
Goldenrod, FL 32733