The most requested option for a next post on author marketing via twitter, was *drum roll* how to build your author website.
It seems for some authors, the idea of creating an author website is incredibly daunting, but it doesn't have to be! With all the recent developments in online technology, there are so many platforms that make creating an author website super accessible. If you find that you find it all too overwhelming, you will always have the option of turning to a web designer to create your website for you.
Please keep in mind, as an author, no one is expecting you to have a website that knocks their socks off. However, you do want it to be clean, professional, and easy to navigate.
The first steps
Evaluate what it is that you want on your website, and what you want out of your website. What's the goal? Are you driving people to a blog, information about you, other options for connecting with you, posting book reviews, selling books, etc. Make a list of what is most important to you.
Now, it's time to decide where you want your website to live — do you want your own domain? Are you fine having a subdomain on another website (example: www.yoursite.domain.com or www.domain.com/yoursite)? What's the difference? Domains cost money, subdomains are usually free.
What to build on
There are lots of options for building your website, WordPress, Wix, Squarespace, you can even just set up a page for yourself on Facebook and call it a day (though I don't recommend that path).
To start with, I recommend setting up a WordPress website. You can set up a site on WordPress that's free and looks pretty good. If your website is hosted by WordPress, you also don't have to worry about updating for security vulnerabilities, etc.
If you want more control over your WordPress install, you can sign up with many different web hosts (Godaddy, NameCheap, HostGator, etc.) and they'll set up the WordPress install for you on your domain.
If you think that installing WordPress on your own server is for you, please remember the four U's of WordPress.
Update
Update
UPDATE
For the love of god, UPDATE
While having more control over your WordPress install is great in some respects: You can install add-ons and plugins that you can't access on a WP hosted version and customize cod yourself. There are other things you need to stay on top of: SECURITY. You need to keep your install and plugins up to date. Because WordPress can be vulnerable to hacking because of its popularity. There are plugins that can help circumvent this, but it's still something to be aware of.
Pros of WordPress:
Good for SEO
Easy to update
Easy to maintain
Cheap
Industry standard
Tons of add ons
Tons of templates
Tons of integrations
Cons of WordPress:
Open source which can lead to vulnerabilities with security
There can be a learning curve if you've never used a content management system
What to put on your website
The basics for your website should include:
About me – your bio and a picture of you if you're so inclined, also put all your social links here. Also include information about your agent and any writing groups/associations you're affiliated with. Not sure what to write? Use this template. My name is [NAME], I've been writing [GENRES] for [X] years.
Items you can also add, what you love to read, your current read, where you live/have lived, your family, pets.
Books – Have books out already or coming soon? List them here, along with links to EVERY PLACE THAT SELLS THEM, also include goodreads. You can also add blurbs, praise, reviews, awards here.
Blog – If you want to blog, turn on that option in WordPress/your chosen platform. What should you blog about? I'll write a new post about that soon. For now, you're on your own.
Contact – On your contact page you should list all your social media, AGAIN. Also add your email address and PO box if applicable.
Other pages that might make sense for you: Signed copies of your books, Your patreon, Your Youtube/Twitch, Upcoming appearances, Upcoming works, Merchandise, Media (got maps for your books? Pronunciation guides? Family trees?), Reviews, Email sign up.
How often to update
If you're blogging, many people say to blog once a week. I suck at this. So… I'm not going to tell you to do that. Otherwise, I'd say check your site once a month to see if anything needs to be updated. If you go with WordPress as a platform, check the admin page once a week to see if anything on the back end needs to be updated.
Metrics
There are key performance indicators (KPIs) that will tell you how your website is doing. Some websites have built in analytics, however, I recommend installing Google Analytics and setting up an account inside Google Search Console. Inside Google Analytics you can see:
How people arrived at your website
Where people went on your website
How long they spent on your website
Demographic information
Why would you want this information? This helps you determine how you're getting traffic, where people are dropping off on your website, and it can also help you discover if parts of your website are ineffective.
More on WordPress
If you're interested in moving forward with a WordPress install on your own server, I recommend the following plugins. Yoast (for SEO), Mailchimp for WP, Social Media Widget by Acurax, Wordfence (this will notify you of security issues), MonsterInsights Google Analytics.
PLEASE BE CAREFUL ABOUT WHAT PLUGINS YOU INSTALL. Old plugins can easily be compromised. Look at reviews before you install, be incredibly aware of what you're installing, and check to see how many people have installed it. After you install, KEEP IT UPDATED.
And now on to themes: There are a TON of free themes inside WordPress that you can install. One of my favorites is Lovecraft. But again, install carefully and KEEP IT UPDATED. Also, be sure that you are choosing a theme that is responsive, this means it will adjust the design of the website to the device it's being viewed on.
Should I hire a web designer?
This is really up to you and whether or not you have a budget for it. A website set up by a web designer will likely cost you $100-$500, and will likely be on WordPress anyway. If you want the designer to maintain it for you, then there will also be a monthly cost. So, this is really up to you. But do be sure anything they set up for you is responsive.
About me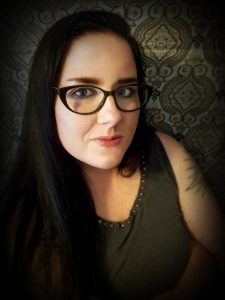 Dea Poirier was raised in Edmond, Oklahoma, where she got her start writing in creative writing courses.  She attended The University of Central Oklahoma for Computer Science and Political Science. Later, she spent time living on both coasts, and traveling the United States, before finally putting down roots in Central Florida. She now resides somewhere between Disney and the swamp, with her husband, son, two dogs and two cats.
She spends her days at her day job as a Senior Manager of Email and Lifecycle Marketing, and her nights writing Manuscripts.