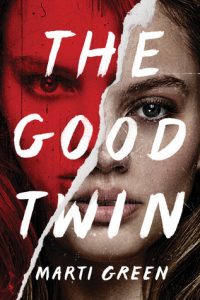 A couple months ago, Amazon Publishing was kind enough to send me a copy of THE GOOD TWIN by Marti Green to review. And now I'm going to giveaway physical audiobook to one of you!
Want to read my review? You can find it here.
You can add this book to your goodreads to read list here.
In Marti Green's twisting novel of psychological suspense, twin sisters become engaged in a dangerous deception…
Mallory Holcolm is an unfulfilled waitress and aspiring artist living in a Queens boardinghouse when she learns something astonishing about her past: she has an identical twin sister named Charly she never knew existed.
Charly is a Princeton graduate, a respected gallery owner, and an heiress married to her handsome college sweetheart, Ben. Charly got everything she ever wanted. Everything Mallory wanted, too. And now it might be easier than Mallory ever imagined. Because Ben has reasons of his own for wanting to help her.
It begins with his startling proposal. All Mallory has to do is say yes.
But as their devious plan falls into place, piece by piece, Mallory learns more about her sister and herself than she ever meant to—a discovery that comes with an unexpected twist. A chilling deception is about to become a dangerous double cross. And it's going to change the rules of Ben and Mallory's game to the very end.
And now on to the giveaway details! This giveaway is for a physical audiobook — with MP3 cds. This is not a giveaway for a download code, I will mail you the CDs if you win. This giveaway is for US only. Because of previous problems with bot accounts entering or abusing the giveaway —  bot accounts will be disqualified. If you use social media to enter, follows/subs must still be active at the time of the drawing for you to qualify.