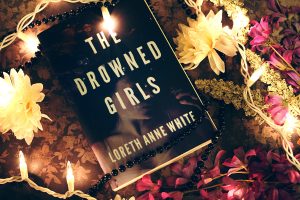 To celebrate hitting a twitter follower milestone, I'm giving away a physical copy of THE DROWNED GIRLS by Loreth Anne White. This was one of my favorite books of the year. The entire series is fantastic, so I'm hoping I can get one of you just as hooked as I was! As someone who writes about lady detectives, I absolutely love a great book following a female detective with a whole lot of attitude.
Book description
He surfaced two years ago. Then he disappeared.
But Detective Angie Pallorino hasn't forgotten the violent rapist who left a distinctive calling card—crosses etched into the flesh of his victims' foreheads. When a comatose Jane Doe is found in a local cemetery, sexually assaulted, mutilated, and nearly drowned, Angie is struck by the eerie similarities to her earlier unsolved rapes. Could he be back?
Then the body of a drowned young woman, also bearing the marks of the serial rapist, floats up in the Gorge, and the hunt for a predator becomes a hunt for a killer. Assigned to the joint investigative task force, Angie is more than ready to prove that she has what it takes to break into the all-male homicide division. But her private life collides with her professional ambitions when she's introduced to her temporary partner, James Maddocks—a man she'd met just the night before in an intense, anonymous encounter.
Together, Angie and Maddocks agree to put that night behind them. But as their search for the killer intensifies, so does their mutual desire. And Angie's forays into the mind of a monster shake loose some unsettling secrets about her own past. How can she fight for the truth when it turns out her whole life is a lie?
Can't wait to see if you win? Buy a copy here!
Add it to your Goodreads here!
And now on to the giveaway details! This giveaway is for a physical book. This giveaway is for US only. Because of previous problems with bot accounts entering or abusing the giveaway —  bot accounts will be disqualified. If you use social media to enter, follows/subs must still be active at the time of the drawing for you to qualify.