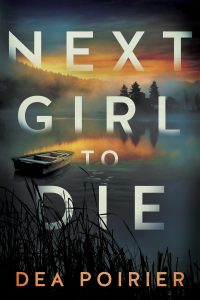 I am so excited to reveal the cover for NEXT GIRL TO DIE. This book has been years in the making. Getting it out into the world and in front of all you is surreal. I hope you all love this cover as much as I do. Huge thanks to the Thomas and Mercer team for creating this beautiful cover!
Thank you to all of you who have supported me on this journey to bring NEXT GIRL TO DIE into the world. And to all of you that have pre-ordered already, I appreciate it SO MUCH!
Solving the case will avenge her sister—unless the killer finds her first.
It's been fifteen years since Claire Calderwood's sister, Rachel, was brutally murdered in their small hometown in Maine. Claire has finally carved out a life for herself as a homicide detective in Detroit, but the past comes calling when the local police back home ask for her help with a murder eerily similar to Rachel's.
Still haunted by Rachel's cold case, Claire returns home, hoping to solve the crime and finally put her grief to rest. As she starts investigating, the last thing she needs is tenacious journalist Noah Washington asking questions she's not ready to answer. But like her, Noah won't give up until he finds the truth—and Claire reluctantly finds herself relying on him more and more when disturbing new details about Rachel's death come to light.
When the killer strikes once again, Claire knows he's not done. Now he's set his sights on Claire, who will have to find the courage she needs to survive a deadly confrontation years in the making.
About the author
Dea Poirier was raised in Edmond, Oklahoma, where she found her passion during a creative writing course. She studied computer science and political science at the University of Central Oklahoma. She later spent time living on both coasts and traveling the United States before finally putting down roots in central Florida. She now resides somewhere between Disney and the swamp with her husband, son, two dogs, and two cats.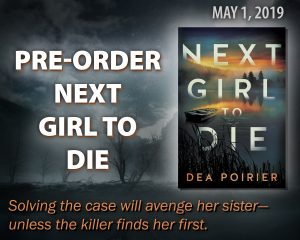 Buy NEXT GIRL TO DIE and follow me on social media!