I'm super excited to be running this giveaway for Holly Evans! She's been kind enough to give away an ebook ARC of her book Stolen Ink!
What's Stolen Ink?
A gay tattoo magician, (who should probably stop cursing the gods quite so much), must work with an LGBT cast to stop a tattoo thief before more people are killed. – Urban Fantasy.
Stolen Ink (Ink Born 1) blurb.
I'm Dacian, a tattoo magician, and my life went from my biggest concern being finding a pretty guy to fall into bed with at the end of the week to everything falling apart around me.
There are two problems in my life.
Number one – I'm an ink magician, the thing of myths. A lot of very powerful people would love to get their hands on me, and I have no intention of letting that happen.
Number two – A tattoo thief came to my city, and the magical community has decided that I'm the guy to stop them.
Somehow, I have to catch the thief without letting my secret out of the bag, and that's even harder than it sounds.
— and look at this GORGEOUS cover you guys!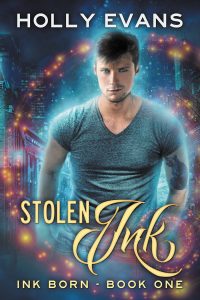 So, how do you win? Use the widget below!
Be sure to follow Holly Evans on Twitter, and check out her other books on Amazon and Goodreads!