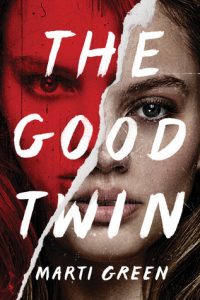 This week I listened to the audiobook of THE GOOD TWIN by Marti Green. Thomas and Mercer (Amazon Publishing) was kind enough to send me a copy to review, but receiving this copy did not in any way influence my opinion. My opinions are my own.
In Marti Green's twisting novel of psychological suspense, twin sisters become engaged in a dangerous deception…
Mallory Holcolm is an unfulfilled waitress and aspiring artist living in a Queens boardinghouse when she learns something astonishing about her past: she has an identical twin sister named Charly she never knew existed.
Charly is a Princeton graduate, a respected gallery owner, and an heiress married to her handsome college sweetheart, Ben. Charly got everything she ever wanted. Everything Mallory wanted, too. And now it might be easier than Mallory ever imagined. Because Ben has reasons of his own for wanting to help her.
It begins with his startling proposal. All Mallory has to do is say yes.
But as their devious plan falls into place, piece by piece, Mallory learns more about her sister and herself than she ever meant to—a discovery that comes with an unexpected twist. A chilling deception is about to become a dangerous double cross. And it's going to change the rules of Ben and Mallory's game to the very end.
I was sold on this book after reading the blurb. I'm a huge fan of psychological suspense/thrillers. Let me start out by saying — this book nailed it at every turn.
The sisters were so complicated, different — yet similar, and I was drawn to both of them. Each sister had a dark side in their own way, which I absolutely loved. Their dynamic was so interesting and a fresh take on twins. Though I've read a few books about twins, none have been anything like THE GOOD TWIN.
The point of views in this book were all unique and drew me in in their own ways. Marti does a great job of letting you in on what the characters are thinking and really laying out their motivations — and you may find yourself cheering while they're doing horrible things.
Once the action really got going in this book — I didn't want to stop listening. There were several twists I did not see coming at all! The narrator, Dara Rosenberg, did a fantastic job reading the book.
If you're looking for a wonderful psychological suspense with hints of GONE GIRL, you'll absolutely love this book!
You can find this book (and places to buy it) on Goodreads OR — you can use my audible link to listen to this book FOR FREE (plus you'll get an extra code to listen to a second audiobook FOR FREE)!
Note: This page contains affiliate links.